Pillars Character

Bartholomew of Shiring


Bartholomew as he appears in The Pillars of the Earth.
Vital Stats

Gender
Male
Rank
Earl (later dispossessed).
Nationality
Norman English (Most Likely)
Status
Deceased
Family
Unknown Father

Unknown Mother

Unnamed Wife

Aliena (Daughter)

Richard (Son)

Civil War Allegiance
Maud
Appearances
Novels Appeared
The Pillars of the Earth (Appears)
TV Series
Yes
TV Series Potrayal
Donald Sutherland|-
Earl Bartholomew is a character featured in The Pillars of the Earth. He is the father of both Richard and Aliena, and is the Earl of Shiring at the beginning of the novel. It is his actions and his oath that causes Aliena to make many decisions in her life which are selfless, yet ultimately cause her to be unhappy. Even so, Aliena and Richard both respect her Father immensely.
Background
Edit
It can be assumed that Bartholomew was born the eldest son of the last Earl of Shiring, his Father. At one point, likely on his Father's death he inherited the title and all it's lands. He then married the women that would be Aliena and Richard's Mother, but he made her very unhappy, unwittingly. When she died, he made a promise to Aliena that he would never make her marry someone that she didn't want to, a decision that is frowned upon by the the county.
The Pillars of the Earth
Edit
Bartholomew is first mentioned by name when
Philip
is told by his brother Francis of the Earl's involment in the plot to raise a rebellion against Stephen. Philip then goes to the Bishop, but instead tells Waleran of the plot. He in turn tells the Hamleighs of Bartholomew's treachery (when instead the Earl is steadfast in honouring his earlier oath to Maud), who have personal reasons to hate him, after he broke of
William's
betrothal to his daughter. In Part I,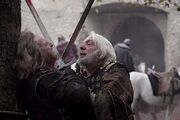 they take the castle, just after he hired Tom Builder to work on the castle, and he is taken captive and sentenced to death.
While going to appeal to the King in Winchester, Aliena and Richard coem across him in his cell, waiting to be hanged. Bartholomew is in bad shape, and is slowly dying. He makes them swear an oath, Richard to regain the Earldom, and Aliena to help in in any way she can, before commanding them to leave him and never feel guilty for leaving him in his cell. He later dies only a short time after their visit and the Earldom rights are a point of contention for Philip and the Hamleighs.
Appearance and Personality
Edit
Eral Bartholomew is described as 'a tall man, of over fifty' with white hair and a pale, haughty face. Tom mentions that he did look generous of spirit.[1]
The Earl is described as 'unbending'[2] and is very honourable, as seen by the way he values his oath to Maud over his life. He can be seen as harsh, and commanding, but he can also be sympathetic and understanding as seen with his children.
References
Edit
Community content is available under
CC-BY-SA
unless otherwise noted.