Ok, so why is it called 'Outstanding Monks'.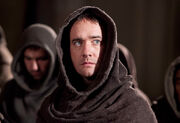 Well, Monks are organised, dedicated and enthusiatic. And so as a result, those users who go above and beyond the line will be awarded this title for the month.
So, how does it work?
Basically, if we think a User is doing great work; filling in pages, being nice in the community, and generally helping this Wiki a lot, we Admin will vote them as User of the Month, aka a 'Monk'!
What happens if I'm awarded more than once?
Those who consistently exceed our expections and win two months in a row will gain the title 'Prior' whether they like it or not. (That is, they will become a 'Prior User'- like a Level 2 or Silver User, etc.) Win it for months, and you may even be asked to join the Admin team should you want to! You don't have to win it in a row, just win it three times.
Disclaimer: We can only make a User the User of the Month if they have a registered account. Sorry to all thse dedicated Wiki Contributers who do great work but aren't properly recognised.
The Page of the Month wins no title, save maybe a little thing at the top. It just shows you where the best pages are.
All items (2)